Lights Installation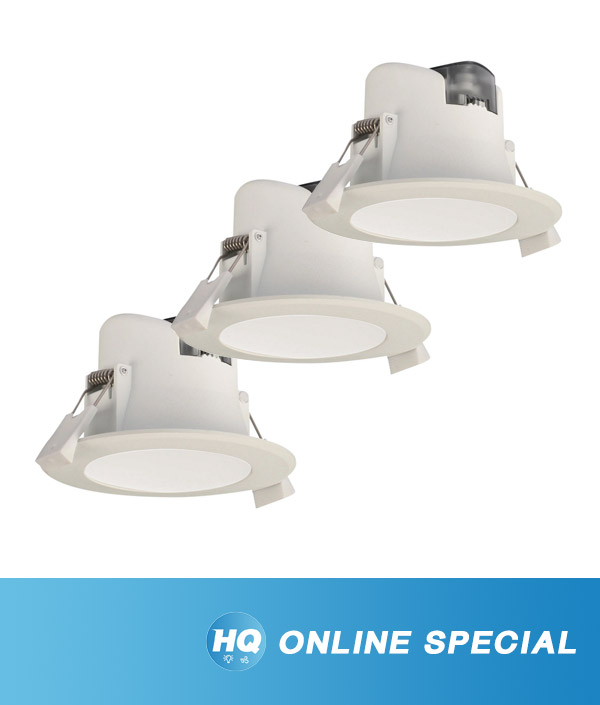 $49/ LED Light (Replace Existing)
High efficiency SMD LED chips
Brand: SAL S9141TC - 9W (90mm) Dimmable

Minimum x10 LED lights need to be installed

Easy selectable colour temperature with an inbuilt DIP switch, 3000K/4000K/5700K

Offer Valid Until 31st October 2020

Supplied & Installed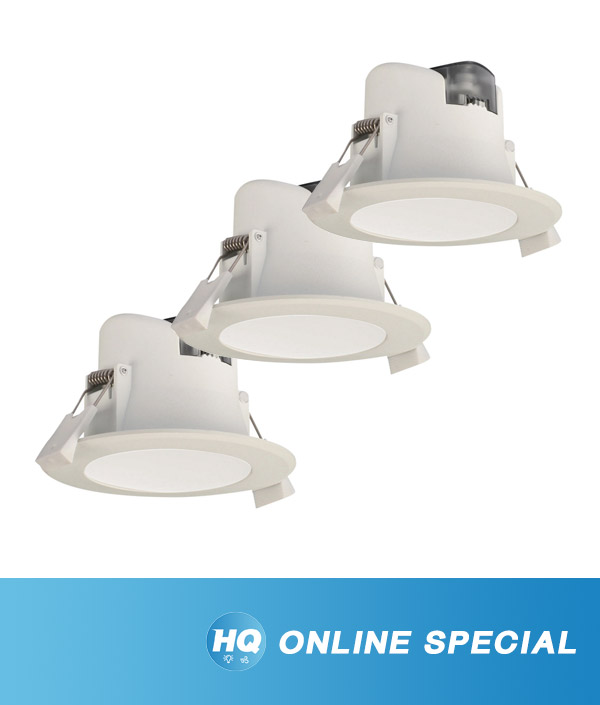 $82/LED Light (Newly Installed)
High efficiency SMD LED chips
Brand: SAL S9141TC - 9W (90mm) Dimmable

Minimum x4 LED lights need to be installed

Easy selectable colour temperature with an inbuilt DIP switch, 3000K/4000K/5700K

Offer Valid Until 31st October 2020

Supplied & Installed
SAL (S9141TC - 9W) LED Specifications

SAL LED downlights are the preffered brand for HQ Services. These downlights include; Dimmable IP44 and 9 watt LED downlight with selectable colour temperature.

Model: S9141TC - 9W

Application: Ideal for any residential or commercial interior space

Design Specifications

Easy selectable colour temperature with an inbuilt DIP switch, 3000K/4000K/5700K
Durable die-cast aluminium body profile, IC - 4 rated
Stylish white powder coat finish, with optional colour trims available; satin nickel (S9141SN/RING), black (S9141BK/RING)
Quality opal polycarbonate diffuser
High efficiency SMD LED chips
Remote constant current trailing edge dimmable LED driver




Performance
Dimmable - YES
Dimmer Type - Trailing edge, optional 1-10V, DALI / DSI




For any further clarification please free feel to contact us.
Our Electrical Lighting Service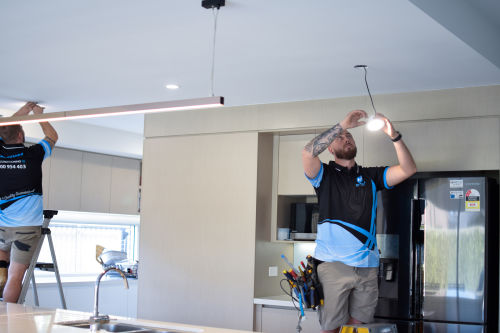 HQ Technicians installing LED downlights in kitchen.
Proper lighting in your Sydney home or business can have a dramatic impact on the space. From accentuating designs to providing ample light for work and daily activities, The right lighting can make a world of difference.
At HQ Services we provide expert light installation and light switch wiring services Sydney residents can count on. Our licensed team of industry professionals can help you find and install the perfect light, or update switches to best suit your needs.
From small and simple projects to large and complex wiring solutions, our team is ready and capable to help. Call today to find out why so many Sydney residents trust us for light installation and light switch wiring services.
Light Installation

At HQ Services we work with homeowners, business owners, property managers, remodeling and construction companies, designers and architects to provide superior light installation and light switch wiring services custom-tailored to the end user's unique needs, style and design preferences.

Types of Light Installations and Switches We Commonly Work With Include:

Dimmer switches
Smart switches (wifi enabled)
Ambient lighting
Recessed or track lights
Chandeliers and pendants
Wall sconces and wall lights
Under-cabinet and vanity lighting
Accent lighting
Recessed and spot lighting
And more…




No matter if you need work done on new construction or are looking to update or upgrade an existing home or business, our team can help.

Halogen and LED Downlights

While our expert electricians will take on just about any project you can throw at them, we have to admit our favouritism for Downlights. Downlights offer a sleek, modern feel with low profile lighting and high area coverage. Halogen downlights are the classic option, but energy aficionados and safety experts have worked tirelessly to create LED alternatives for a lower utility bill, higher energy efficiency, and safer functions.

Halogen lights operate 300-500 degrees celsius and can turn into a serious fire risk; the more you have, the higher the impact on your heating and cooling, safety, and energy bill. If you already have halogen downlights, our friendly staff would love to work with you to upgrade your home to LED.

Light Switch Wiring

We often take safe wiring for granted, but professional wiring that is up to code and installed to safety perform for years is a necessity.

Poor wiring can lead from something as innocuous as overages on your electrical bill, to more dangerous consequences, such as house fires. Working with electrical wire is also dangerous, as live lines can lead to serious injury.

To ensure that your wiring is up to code, only let licensed, professional electricians like the team at HQ Services handle wiring work. We can install new wires or replace wiring, depending on your needs.
Professional Installation at Affordable Prices
When you need quality electrical work in or around Sydney, give our team a call. With 20 years of combined experience, our highly trained team is standing by to help you power on.

Air Conditioning

Electrical Services

Commercial Projects