Electrical Wiring & Rewiring
Our Electrical Wiring Service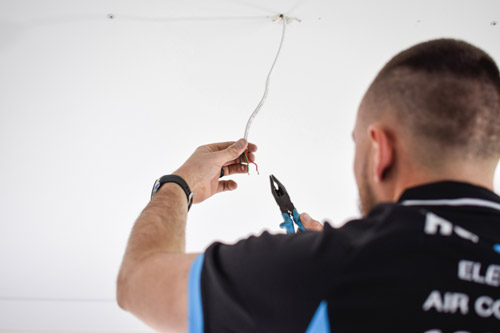 HQ Technician installing new Australian standard electrical wires.
Switchboards are the heart of your home, but your wires are the veins and arteries. Although out of sight and out of mind, these wires are no less critical to a fully functioning, safe home.
Over time wiring can become damaged, outdated or incapable of handling the growing needs of your family or business. When this happens, the addition of new wiring or re-wiring of the structure may be a necessary step.
Whether you have a new house under construction, need to add to your existing power structure, or need to upgrade the wiring in your home, HQ Services is here to help.
Need New Wiring

From renovation projects to power points for a hot tub or spa, we handle it all. Tired of constantly hunting for a power point or pulling out the tangled mess of extension cords? Then let us install new outlets in your home for more peace of mind and less mess.

Renovations and home additions can also cause a need for new wiring. Despite all the DIY information on the internet, you're safer working with a licensed, trained professional.

When to Consider Rewiring your Sydney Home or Business

Most homes don't need to be rewired. However, if you aren't familiar with the wiring in your home, we highly recommend having an inspection to see if you should consider updating your system. Often times simple updates or additions to your existing wiring are sufficient for meeting your needs.

The reasons for needing rewiring can be as benign as updating to meet current building codes, or as critical as replacing an old cloth or aluminum wire setup with no grounding. Benefits include improved energy efficiency, safety and increased property value.
Professional Wiring and Re-wiring with HQ Services
Whatever your electrical needs, HQ Services is here to help. Let our highly trained electricians provide you with solutions that get the job done right.

Air Conditioning

Electrical Services

Commercial Projects