Power Points Installation
Our Power Points Service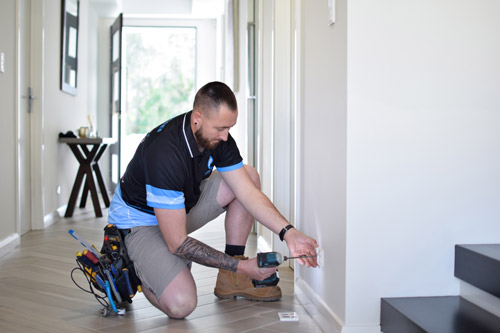 HQ Technicians installing power point.
Power points are important, yet many homes and businesses (especially older ones) don't have enough to properly service the property and the needs of those who reside or work there.
In today's modern world we have more appliances and gadgets than ever before, all of which require power points to charge and operate them. In other cases, outdated power points may not be set up to handle appliances, utilizing double but not triple-prong outlets.
At HQ Services our team of electrical specialists offers a wide range of services, including power point repair, upgrade and installation all around Sydney.
Power Point Installation in Sydney

Although power points may not seem complicated, anything dealing with electricity can be dangerous. Not to mention local residents and businesses need to ensure they stay in compliance with local Sydney building codes. Call us today for reliable, professional and affordable power point installation and upgrades.

Power Point Upgrade

Older power points may not be equipped to safely handle the needs of your growing family or business. Overpowering old outlets with appliances or using aftermarket adapters may pose a fire risk. Our team can quickly and efficiently upgrade your power points to fit your individualized needs, including upgrades to handle heavy-duty appliances or even "smart" power points and switches connected to wi-fi or those that include USB plugs.

Find the Power Point Solution to Stay Connected

We offer a variety of solutions for your power point woes. Do you find that outlets in your home don't receive power or trip often? We can take a look at the wires and see if you are eligible for repairs instead of a full replacement. Do you not have enough power points available? We can add new wiring and new outlets or upgrade your current outlets to offer more plug-ins. In areas of high electrical use, we can do both to help more efficiently distribute your power and clean up all the cords.

If you choose to upgrade or install new power points, we can also walk you through the options available to see what works best for your home.
Charge Up and Power On with HQ Services
Electricity may not be as critical as clean air for our lives, but these days it isn't far behind. From keeping our food fresh and our appliances running like clockwork, to helping us connect across continents, power fuels our very lives. Most appliances can't be hardwired, and devices need access to power in order to charge. Let our master electricians hook up your home so the power is where you need it, when you need it.
Call our friendly office staff today, and we'll get you set up for a consultation with one of our licensed professionals.

Air Conditioning

Electrical Services

Commercial Projects